Teaching Reading Comprehension (2016)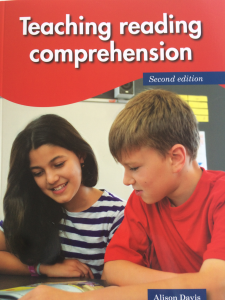 "Good" readers are active as they read. They learn strategies to support them to decode unknown words, develop a wide vocabulary, read with fluency and understand the content they are reading. Teaching Reading Comprehension (Davis 2016) is a text for teachers and literacy leaders that provides the reader with multiple ideas, descriptions, activities and examples of how to teach each aspect related to what we know good readers use, select and combine as they read for comprehension. In addition, there are sections titled 'when readers struggle' and 'extending able readers' along with a chapter on important teaching approaches and a chapter on organisation and management of groups.
This text is also supported by material on a CD that totals in excess of 100 reproducibles and graphics to support teacher lessons, practice activities and independent follow up tasks.
Open links below to see inside the book
teaching-reading-comprehension-contents
chapter-5-teaching-reading-comprehension-103-165
Effective Writing Instruction
This module provides ten to fifteen 1 ½ – 2 staff meetings allowing school leaders to select the most appropriate content to explore and the order in which they will explore each key idea. Schools can move quickly through ten meetings or spend longer on some aspect of instruction and take fifteen meetings. This text focuses on development of student agency within and towards writing. The text re-examines the notion of preparing students to write, discusses in detail eight different teaching approaches, provides instructional strategies for developing writing skills and examines critically what "purpose" actually looks like if writing is to be engaging for students. Multiple examples of self and peer reflection, co-constructed learning and peer teaching/collaborative learning are embedded throughout this text.
Published 2013 Ch_1_Effective_Writing_Instruction sampler
Explorations – Strategies for Comprehension 
Click on the link below to watch videos of Alison discussing this resource.
http://vimeopro.com/eleanorcurtainpublishing/alison-davis-talks-comprehension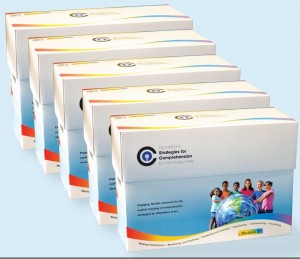 Five modules containing information text based on reader readability (reading age appropriate)
Each module includes six units of work
Each unit of work allows flexible teaching from 2-4 weeks of instruction depending on needs of students and teaching focus
Each unit of work is linked to a cross curricula theme
Each unit of work provides explicit instruction on one or more comprehension strategy
Priced at $695.00 incl. GST per module
Module 1 – readability 7-8.5
Module 2 – readability 8-9.5
Module 3 – readability 9-10.5
Module 4 – readability 10-11.5
Module 5 – readability 11 – 13 – available NOW!
http://strategies-for-comprehension.com.au/
Building Comprehension Strategies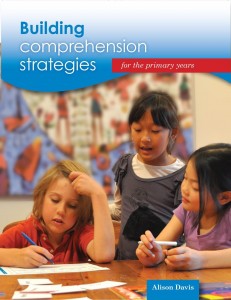 This module provides twelve  1 ½ – 2 hour staff meetings  with each staff meeting unpacking one of the eight chapters, an introduction and a summary staff meeting.
Building comprehension strategies describes and exemplifies instruction that is highly metacognitive and makes learning visible and active for students.  A wide range of examples of teacher and student think alouds, questioning prompts, learning goals, success criteria, self and peer assessment are provided within each chapter. Graphic organisers and templates are described and available on a CD Rom. Research and practices are entwined to provide rigorous examples of up to date instruction for students in primary years.
Published 2011
 download an order form
to order any of these resources email Vision Education at office.vision@xtra.co.nz