The STEM/STEAM Design Process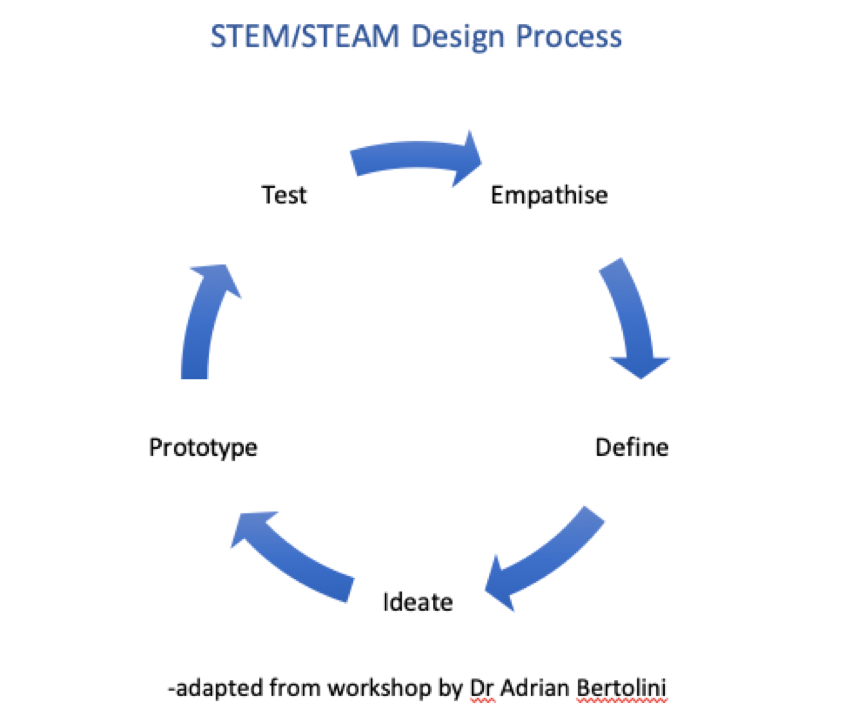 STEAM is an approach to learning that uses Science, Technology, Engineering, the Arts and Mathematics to guide students through the inquiry process, as they engage in critical thinking and deep discussion about their learning. Similarly, STEM education emphasises the integration of knowledge and skills found in science, technology, engineering and mathematics as real life contexts and authentic tasks are used to design and apply solutions to problems.

Collaboration is integral to this problem-solving approach, as students work together to take educated risks and learn through experience. STEM focuses on innovation and the applied process of designing solutions to complex contextual problems using current tools and technologies (Granshaw, 2017).

Students collaborate to develop their own solutions to authentic problems through the design process. This process focuses on solving a problem by deconstructing it (breaking it into smaller parts), analysing the data and creating solutions by using a series of ordered steps. These steps are:
o Empathize – develop a deep understanding of the challenge
o Define – clearly articulate the problem to be solved
o Ideate – brainstorm potential solutions; select and develop a solution
o Prototype – design a prototype (or series of prototypes) to test all or part of the solution
o Test – engage in a continuous short-cycle innovation process to continually improve the design (Bertolini, 2019)
Questions asked and answered at each step of the process empower learners to define, reframe and generate ideas, before identifying the final solution. These include:
o Empathize – tuning in – What questions could we ask? What things should we consider? What could we do to find out more? What are the needs of the stakeholders? What is important? What is not important?
o Define – What is a meaningful statement of the problem? What actions might we take?
o Ideate – What are some possible solutions? What is our proposed solution?
o Prototype – Create a prototype
o Test – How well did this work? How will we change the solution to improve it? (Bertolini, 2019)

Links between integrated inquiry learning, and the design process in Technology (NZ Curriculum) can be made, as learners move through each step to develop and apply their solution to a problem.

While STEM/STEAM courses can be designed in different ways, to meet the needs of students in each school context, certain elements should always be addressed. Projects should integrate learning goals, relevant knowledge and skills, pedagogy and assessment. Higher order thinking processes, such as problem solving, critical thinking, synthesis, analysis, and evaluation of knowledge, are integral to learning in STEM/STEAM.

Learning in STEAM encourages students to "explore the world around them, develop and create innovative solutions to problems, think deeply, work collaboratively, and communicate their results" (Centre on Standards and Assessment Implementation).

Vision Education provides centrally funded PLD for STEM/STEAM. Schools and Kahui Ako can access PLD, in class coaching and mentoring and leadership support to develop and implement STEM/STEAM programmes.

For information contact Alana Cantley at office.vision@xtra.co.nz
References:
Bertolini, Adrian, 'STEM AND STEAM: Experiencing STEM and Design Thinking', Hawker-Brownlow Conference, Melbourne, 2019
Centre on Standards and Assessment Implementation, USA Departments of Education and WestEd, retrieved from https://www.csai-online.org/collection/2810

Granshaw, Bruce, 'STEM education for the twenty-first century: A New Zealand perspective', Australasian Journal of Technology Education, 2017